BPH is a common problem for men as they age, with statistics showing that by the age of 50, 50% of men are affected by signs of an enlarged prostate.
There are many natural supplements on the market, claiming to help relieve prostate symptoms, but do they hold up to scrutiny?
Endorsed by Larry King, ProstaGenix is a prostate supplement that contains a blend of natural ingredients.
The company claims that these ingredients can help most men experience relief from urinary symptoms associated with benign prostatic hyperplasia (BPH), including urgency, frequency, dribbling, weak urine stream, and nighttime urination. ProstaGenix also claims to lower LDL cholesterol levels.
This article will take a closer look at the prostate supplement ProstaGenix, the ingredients it contains and whether you can expect it to deliver results.
What are the active ingredients in ProstaGenix?
As with any purchase that you're going to consume, be that food, drink or supplements, the number one place to look first is the ingredient list. You want to know precisely what is entering your body, the quality of the ingredients, and the dosage provided.
When it comes to choosing a prostate supplement, you want one that contains a broad spectrum of minerals, vitamins, and nutrients, all in clinically significant doses. This is the ingredient list for ProstaGenix: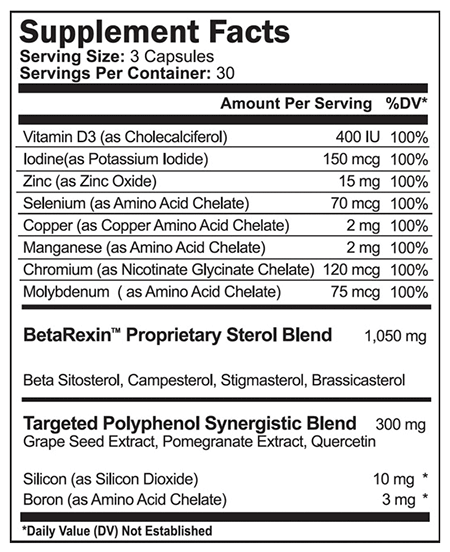 What Does The Research Say About ProstaGenix Ingredients?
It contains a decent number of some of the key prostate ingredients expected in high-quality prostate supplements, including beta-sitosterol, boron, quercetin, vitamin D, and pomegranate extract. It also contains some important minerals for prostate health, such as zinc.
Beta-sitosterol is the stand out ingredient in ProstaGenix, which is included as part of their trademarked propriety blend. Clinical trials have shown that beta-sitosterol increases the maximum urinary flow rate by about 45%. That's why, according to prostatereport.com, ProstaGenix contains 824 mg per dose of beta-sitosterol, which is a commendable and high dose of this essential prostate ingredient.
However, they do not disclose the fatty acid to plant sterol ratio of beta-sitosterol, which is an important indicator of ingredient strength and quality.
ProstaGenix also contains a significant dose of vitamin D (400IU). Research has found that Vitamin D has certain anti-inflammatory properties that reduce BPH symptoms and promote healthy prostate size.
It also contains quercetin in its polyphenol blend, a flavonoid antioxidant that has been found in clinical trials to improve BPH symptoms and increased urine flow rates.
Importantly, ProstaGenix has ensured that its minerals are all chelated. This means they are absorbed and used more efficiently by the body. Many low-quality supplements do not bother with this process because it costs more. So it's good to know that ProstaGenix is making their supplements with their customers and not their wallets in mind.
How long does it take ProstaGenix to work?
On the ProstaGenix website, the company states that most men report feeling a distinctive and noticeable change in the first 10 days of use. However, the most dramatic results were reported after consistent use over 3-4 weeks.
Who could benefit from taking ProstaGenix?
Men experiencing urinary symptoms associated with BPH may benefit from taking ProstaGenix. Customers have reported fewer bathroom visits, waking up less during the night to urinate, a decrease in urgency, and complete bladder emptying.
How does ProstaGenix compare to other prostate supplements?
ProstaGenix is a popular and decent quality prostate health supplement. We consider it superior to many other formulations for prostate health on the market because of its use of natural, chelated ingredients which have been shown to improve prostate health.
However, it does lack a few important natural ingredients, notably turmeric and vitamin E. The fact that it contains propriety blends also means it is not possible to determine the strength or quality of each dose, such as in the case of beta-sitosterol.
Despite this, we consider it one of the better value prostate supplements on the market.
What are the Top Prostate Vitamins?
You can see a full list of the most effective prostate nutrients below:
Vitamin D– As touched upon, Vitamin D deficiency in middle-aged men has been associated with moderate to severe urinary symptoms.


Selenium– Selenium is an essential trace mineral that plays important roles in reproduction, thyroid hormone metabolism, and protection from oxidative damage and infection.


Saw Palmetto– Saw palmetto works by inhibiting 5 alpha-reductase enzyme activity, which converts free testosterone to (DHT) in the prostate. DHT causes prostate growth and leads to urinary dysfunction.


Pygeum– A study found that pygeum africanum extracts inhibited the growth of human prostate cancer cells in a test tube study.


Pumpkin Seed– Pumpkin seeds contain fatty acids, phytosterols, tocopherols, and micronutrients, which have been shown in preclinical research to have anti-inflammatory effects and reduce prostate volume.


Beta-sitosterol– Beta sitosterol's benefits are numerous. It has been shown to improve Benign Prostatic Hyperplasia overall. It also has anti-cancer properties, specifically against prostate cancer.


Ryegrass pollen– Pollen is a natural source of antioxidants, amino acids, fatty acids, vitamins and minerals, and studies show that it may improve urinary function by relaxing smooth muscle tone and increasing bladder muscle contraction and/or relaxing sphincter muscles.


Stinging nettle– Preclinical studies show stinging nettle causes anti-inflammatory and antioxidant effects that may relieve the symptoms of BPH.


Zinc- The prostate gland contains a high level of zinc, which is reduced when prostate cancer manifests.


Lycopene– Lycopene is an antioxidant that gives tomatoes its red color. Studies have shown that 30 mg of lycopene reduces PSA in men with prostate cancer.


Green Tea– Prostate cancer mortality is lowest in Asia, where they also drink 20% of the world's green tea. One study found green tea improved urinary symptoms in men with BPH.


Boron– Boron is a trace element in the human diet, and high boron intake has been associated with a lower risk of developing prostate cancer.


Quercetin– Quercetin is a flavonoid found in high concentrations in capers, and red onion. Preclinical research demonstrates that quercetin can protect against chronic prostatitis by reducing inflammation and oxidative stress.


Curcumin– Curcumin is the bioactive ingredient in the Indian spice turmeric. It is known for its antioxidant and anti-inflammatory effects and may protect against prostate diseases.

For more information on the best supplements for your prostate, click here!
What Supplement Should You Take for Prostate Health?
We believe that when it comes to choosing a prostate supplement that's right for you, there are a few things you should consider before making your decision:
Does it contain 100% natural ingredients?
Does it contain clinically significant dosages?
Have the ingredients been scientifically proven to work?
Have the ingredients been chelated for better absorption?
ProstaGenix prostate supplement does a good job with many of these. It contains natural ingredients, which have been proven to work better than synthetic alternatives. Many of the ingredients have also been chelated, meaning these ingredients are absorbed and used more efficiently by our bodies. They contain Daily Values (DV) of all ingredients except those for which no DV has been established. Clinically significant dosages of essential prostate nutrients, such as beta-sitosterol and boron, have also been included. And finally these ingredients, none more so than beta-sitosterol, have been shown in clinical trials to have positive benefits for prostate health.
However, we believe that Total Health for the Prostate goes one step further. On top of containing 100% natural ingredients alongside chelated minerals for better absorption, Total Health provides a more complete vitamin and mineral profile than any other prostate supplement on the market. Alongside clinically significant dosages of beta-sitosterol, vitamin D, and boron, it contains several more essential prostate nutrients that have been shown to reduce prostate symptoms, such as turmeric and vitamin E. Plus it also contains a broader range of vitamins and minerals that will benefit general health.
It's also worth noting that many of the individual ingredients were chosen based on studies that show their synergistic properties. This means that taking these specific individual ingredients together is more effective than taking them individually.
The only downside to the product is price. Total Health is more expensive than other prostate supplements. However, in this case, you get what you pay for. The quality and efficacy of this product make it well worth paying extra for.
3 Benefits of Total Health
23 high-quality natural ingredients in clinically significant dosages, many of which have been shown in clinical trials to improve prostate health.

90-day lab proven money-back guarantee.
For more information on Total Health for the prostate and how it can improve your urinary symptoms and overall prostate health, visit https://www.bensnaturalhealth.com/health-products/total-health-vegicaps.html.