Our best-selling book, All About The Prostate, is a definitive guide of scientifically proven and all-natural methods to help you improve your prostate health.
This book will show you how to reduce daytime urinary frequency, stop nighttime urination, and lower your PSA levels, without any side effects.
Metabolic health expert, Ben Ong, breaks down the latest scientific research into plain and clear English.
He digs deep into the medical literature to uncover a series of extraordinary truths about how the doctors may be getting it wrong regarding your prostate health.
A must-read for any man over 40 that has helped over 1 million men, this guide will explain how to help improve your prostate health and clear your urinary symptoms using a step-by-step action plan.
Prostate Health Conditions
BPH
Benign Prostatic Hyperplasia (BPH) occurs when the prostate expands to twice or even three times its regular size.
This condition affects 50% of men over 50 and 90% of men over 80.

Symptoms
Frequent or urgent urination
Nighttime urination (nocturia)
Weak urine stream

Difficulty getting started when needing to urinate

Dribbling at the end of urination

Pain during ejaculation

Blood in the urine (hematuria)
Prostatitis
Prostatitis is a term given to a set of symptoms that are caused by an infection or inflammation of the prostate.

Symptoms
Painful urination.

Frequent urination.

Blood in the urine/Cloudy urine.

Pain in the abdomen, groin, or lower back.

Pain in the area between the scrotum and rectum (perineum).

Discomfort or pain of the penis or testicles.

Fever, chills and, body aches / flu-like symptoms.

Urethral discharge.

Burning sensation while ejaculating or sexual dysfunction.

Pain during sexual intercourse.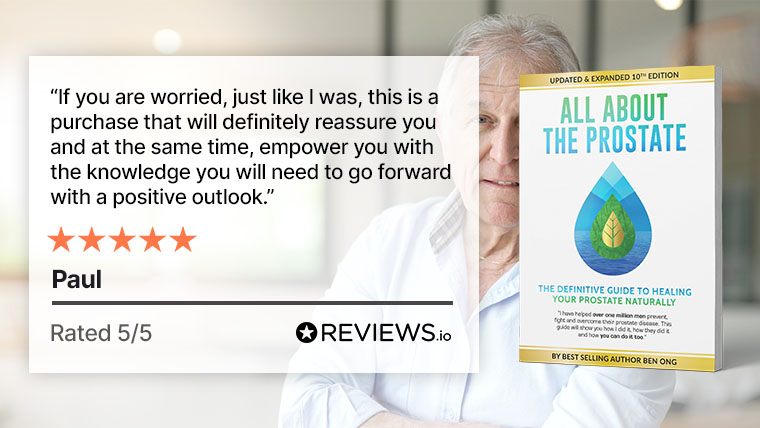 The Importance of Natural Remedies For Prostate Health
Prostate disorders such as benign prostatic hyperplasia (BPH) and prostatitis can cause uncomfortable and embarrassing urinary problems.
Many traditional treatment options, often recommended by doctors, come with a host of adverse side effects that are often worse than the prostate disease itself.
In addition, some conventional treatment options only treat the symptoms and not the root cause. So they aren't actually working to shrink your prostate gland or cure your condition.
So that's why, at Ben's Natural Health, we firmly believe that natural is the way to go.
Natural remedies and lifestyle changes through diet and exercise can cure your prostate disease and help to prevent prostate issues in the first place. And, importantly, they will do so without any adverse side effects.
Natural Supplements
Saw Palmetto
For example, Saw Palmetto berries are often encouraged for their ability to balance hormones and improve overall prostate health.
This extract works to improve urinary symptoms and shrink an enlarged prostate.
In addition, in two studies, saw palmetto and the drug finasteride had similar positive effects on urinary symptoms and peak urine flow.
But people tolerate saw palmetto better, and it is less expensive.
​​Turmeric
Turmeric has powerful anti-inflammatory properties.
Moreover, many studies show it can combat prostate and bladder infections, reduce prostate size, and may inhibit prostate cancer cell proliferation.
Beta-Sitosterol
Beta-sitosterols have been shown in several studies to help alleviate the symptoms of BPH by increasing your urine flow rate.
It also acts as a natural inhibitor of 5 alpha-reductase to reduce prostate size.
What's in the book?
The book includes an overview of the conventional treatment methods of prostate disease and the potential risks included.
It explains the root cause of prostate disease as well as the safest and least invasive diagnostic methods that your doctor may not be suggesting to you.
But, most importantly, Ben clearly lays out the natural methods used by millions of men to reverse prostate disease, shrink an enlarged prostate gland, lower your PSA (​​prostate specific antigen) and completely eliminate urinary symptoms.
This includes nighttime awakenings, sudden urgency, and frequent trips to the bathroom.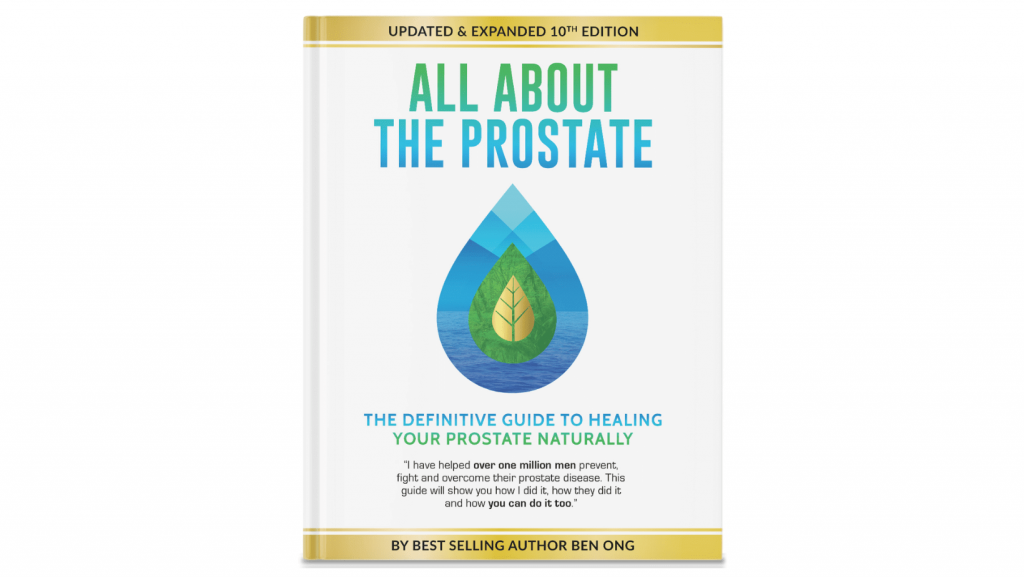 Will this book help me with my prostate issues?
Ben's comprehensive guide equips you with the knowledge you'll need to reclaim your prostate health using all-natural methods.
Everyone can benefit from the information contained within this book.
It addresses the issues male patients face at every stage of prostate disease and explains how to restore optimal prostate health.
Frequently Asked Questions

What's the difference between the latest edition and previous editions?

Ben Ong continues to research the latest science in the prostate condition field, including new emerging treatments, diagnostics, and beneficial ingredients that promote a healthy prostate.
So the latest edition contains the most up to date, science and information available.
Is the book available in eBook, video, or audio format?

Currently, the latest edition is available as a softback physical copy.
The 2018 edition is available as an eBook.
Please contact the customer service team to purchase a copy of the 2018 edition in eBook format.
Currently, the book is not available in audio or video format. But there is a lot of information you can find on our YouTube channel for video and audio content.
How long does the book take to arrive?
Our Michigan-based warehouse aims to dispatch all orders within 24 hours.
Our US shipping times are 3-5 business days country-wide, and our GB shipping times are 2 business days via Royal Mail Tracked.
Do I need to set up an account with you so I can order?
You have the option to set up an account or buy the book as a "guest."
Where do I download the Ebook version of All About The Prostate?
Once your payment has been confirmed, you should receive an email with the link to download the Ebook version.
Please make sure to check your spam or junk folder.
How long does it take to download?
The download time depends on the size of the e-book you order and your internet connection speed.
Download times generally vary between 2 seconds and 2 minutes.
How do I contact your support?
If you have any questions or concerns, you can call or email us at:
Toll-Free Hotline:
Email: support@bensnaturalhealth.com
How do I place an order?
You can order from our website at www.bensnaturalhealth.com.
Place an Order After Adding Items to Your Cart. Then, when you're ready, click Proceed to checkout.
What language is the book available in?
Currently, our best-selling book is only available in English.
What payment method do you accept?
We accept the following payment methods: Credit cards (Visa, Master Card, AMEX ), PayPal.
How do I redeem a discount or special offer?
You can enter the discount code during the checkout process to take advantage of the offer.
Why isn't my voucher code working?
You may want to try again, but, the most common reason a code doesn't work is that it's expired.
Please call our support hotline at 1 888 868 3554 in the US or 0845-423-8877 in the UK to confirm.
Delivery
DHL Express is one of our fastest delivery services for most domestic US shipments providing a delivery time of 1-6 business days for most major destinations.
Royal Mail 48® delivers your parcel from 1-3 business days and gives you free Delivery Confirmation online.
Returns and Refunds
Our company provides a refund for some of our products. But unfortunately, this does not include our best-selling book "All about the Prostate."
We want you to love what you purchased, but we understand that sometimes it won't just work for you.
Please call our hotline, and maybe we can give you a coupon which you could use to order anything from our health store.
Why Choose Ben's Natural Health?
At Ben's Natural Health, our motto is to combine holistic healing with modern science.
Ben's Natural Health is the world's first high-quality, all-natural, scientifically proven clinical supplement company.
Our supplements are effective, natural, and 100% side effect free.
At Ben's Natural Health, we have four rules for all our supplements:
We only use the highest quality ingredients.
We only use them if they have been proven to work in independent, peer-reviewed double-blind studies.
With all our supplements, we find a way to get every ingredient into a single bottle.
We always formulate them in clinically significant doses of the most bioavailable form.
We pride ourselves on offering excellent customer service. We offer a free health consultation where you can ask questions and receive tailored advice from our expert health consultants.
Key takeaways
Benefits of All About The Prostate:
An all-natural science-based method to improve prostate health.
Helps you to restore your prostate health quickly without drugs or surgery.
No more waking at night, no more urgency, no more weak urine flow.
98% of customers would recommend All About The Prostate to a friend.
Explore More

Find out about our leading Prostate Health Supplement: Total Health for the Prostate.