Inflammation of the prostate is known as prostatitis, and it is one of the most common urologic diseases in adult males.
It is estimated that 50% of men experience symptoms of prostatitis at some point during their lifetime.
You may have prostatitis if your prostate becomes inflamed, swollen and tender although it's different from prostate cancer and an enlarged prostate.
It can present many symptoms that harm your well-being.
What is a prostate infection?
To begin with, you may be wondering what an infected prostate means. The prostate gland is located between the bladder and the base of the penis.
An infected prostate (prostatitis) occurs when the prostate becomes inflamed. Areas around the prostate also become swelled and inflamed during prostatitis, which can cause feelings of pain.
This local inflammation amplifies pain, but the cause is often unidentifiable.

The position of the prostate makes it vulnerable to infection and mechanical strain.

Inflammatory substances in the urine, urinary tract infection, and bladder stones are important risk factors to be aware of.
Prostate conditions can cause distress due to painful urination and sexual intercourse, requiring adequate management and prevention strategies. Infections cause prostate tissue or immune damage, leading to inflammatory response and pain.
Inflammation causes vasodilation and accumulation of immune cells, inducing the release of pain-producing substances.

The pain caused by prostatitis can resolve itself over time, yet, anti-inflammatory drugs are needed to relieve chronic pain.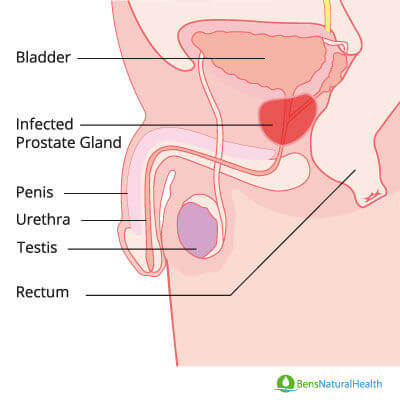 At what age can men develop prostatitis?
Prostatitis develops in men of all ages (Collins et al., 1998), which is different from prostate enlargement (BPH) or prostate cancer that is common in older men.

It is also worth noting that research has identified prostatitis as possibly increasing a man's risk of prostate cancer (Moreira et al., 2014).
Moreover, men aged 30 to 50 years have an increased risk of prostatitis; however, the full mechanism of this risk remains unclear.
Sexual activity can predispose one to prostatitis, suggesting that it may be a factor in the high risk of prostate infection associated with sexually active 30 to 50 age group.

Infertility and low-quality sperm count can also develop from prostatitis (Condorelli et al., 2017).
Get Your FREE PSA Lowering Diet Plan!
Naturally lower PSA levels
Reduce nighttime trips to the bathroom
Enjoy better bladder control and urine flow
Types of prostatitis
Prostatitis is majorly classified by the type of infection and level of frequency of symptoms.
The NIH consensus is the standard method for this classification:
Acute bacterial prostatitis


Chronic bacterial


Inflammatory/noninflammatory chronic


Asymptomatic inflammatory prostatitis
The agents associated with a prostatitis diagnosis is unknown in some cases.

Thus, two main types, including acute bacterial and chronic prostatitis (chronic pelvic pain) are often used in clinical practice.
Acute Prostatitis is usually of sudden onset and often caused by a bacterial infection. Most patients are treated for bacterial prostatitis, but well-defined prostate infections are rare.
Acute and chronic insults can occur together in the prostate (Moreira et al., 2015, 2014). Other, prostate inflammations are asymptomatic, while some occur with prominent symptoms and complications.
Chronic Prostatitis, the most common, is gradual with the progressive onset of bacterial infection. The incidence of chronic prostatitis following acute infection can also occur.

In chronic prostatitis, bacterial testing often gives a negative result.
Causes of prostatitis
The cause of chronic prostatitis is generally unknown, but, a bacterial infection usually causes acute prostatitis.

Other pathogens, including viruses, fungi, and parasites, can travel through the genitourinary system to the prostate to cause inflammation.
The causes of prostatitis can be divided into two components, including infectious and non-infectious. The infectious stimuli have long been linked to the urological pathogens.
These are pathogenic organisms generally found in the genitourinary system.

Urine refluxed into the prostatic ducts can increase the risk of prostate infection, which in turn causes inflammation (Krieger and Riley, 2002; Kummer et al., 2007).
Prostate infection with Chlamydia trachomatis and Trichomonas vaginitis can lead to severe sexually transmitted diseases (Cheng et al., 2010).

The non-infectious stimuli of prostatitis are of many sources (Cantiello et al., 2013), including psychological stress, poor nutrition, and urine chemicals.
Dyslipidaemia, abnormal amounts of lipids in the blood can induce prostate inflammation. Similarly, a high-fat diet is an established cause of oxidative stress, leading to impaired detoxication (Shankar et al., 2015).
Diet-mediated oxidative stress impairs vascular and immune function, leading to damage response. Smoking through increased oxidative stress is another factor linked to prostatitis (Moreira et al., 2015).
What are the risk factors for prostatitis?
Men of all ages can have this disease, but it is more common in young and middle-aged men.
Factors that increase your risk of UTIs and sexually transmitted infections (STIs) also increase your risk of having an inflamed prostate. The risk factors of prostate inflammation vary and include some of the following:
It can start from transmitted infection


Physical trauma such as surgery or accidents / Pelvic injuries


Stress


Alcohol consumption


Dehydration


Delayed ejaculation


Smoking


Sedentary lifestyles exacerbate prostatitis-associated pain (Ku et al., 2005).
What are the Symptoms of Prostate Infection?
Symptoms of prostatitis include:
How is a prostate infection diagnosed?
One simple diagnostic method for detecting prostatitis is a urine test.

For this test, pathologists check for pathogens in urine collected before and after the prostate massaged.
A Doctor or urologist may also use the urodynamic test. Urodynamic tests are used to measure post-void residual urine. This is useful for measuring the ability to urinate and bladder emptying capabilities.
Urinary retention can cause prostatitis if the urine is infected with bacteria. Therefore, the inability to completely empty your bladder may lead to prostate infection.
Other tests analyze the chemical content of the urine sample or count the number of white blood cells in peripheral blood.

Ultrasound and CT scans provide a visual image and a detailed structure of the prostate. A blood PSA test is another means of diagnosing prostatitis.
Chronic prostatitis may cause mild to moderate elevation of prostate-specific antigen (PSA). Thus, the elevation of PSA may be an indication of prostatitis in the absence of prostate cancer.
Prostatitis and antibiotics
Antibiotics are a common treatment for prostatitis. Your doctor will decide the best medication based on the bacteria identified in your tests.
Because the rate of hidden infection is high, a trial of different classes of antibiotics is often required even when the presence of bacterial infection is not determined.
Oral antibiotic treatment lasting for three to four weeks is common. In severe cases, your oral treatment may last longer or switch to intravenous antibiotics.
What are the treatment options for prostatitis?
Some patients need high doses of antibiotics or do not respond at all (Duclos et al., 2007). In non-bacterial chronic prostatitis, the most common type, nonsteroidal anti-inflammatory drugs, alpha-blockers, and alternative remedies help relieve symptoms. The studies testing alternative treatments have reported promising results for these patients.
What natural remedies relieve pain, symptoms, and treat prostatitis?
Natural anti-inflammatory and anti-microbial agents have proven useful in the treatment of prostatitis.
Natural antioxidants help reduce inflammation and pain in patients with non-bacterial prostatitis.
Examples: Flavonoid-rich foods like vegetables and tea can reduce the symptoms of prostatitis. Quercetin, an antioxidant flavonoid found in these foods has shown efficacy in reducing inflammation and pain caused by prostatitis (Duclos et al., 2007).
A double-blind study demonstrated reduced pelvic floor pain using quercetin (Shoskes et al., 1999). Quercetin is well tolerated and is safe for the management of prostatitis (Harwood et al., 2007).
Other studies have demonstrated the anti-inflammatory and analgesic effects of bee pollen. Barbara and colleagues investigated the microbiological activity and chemical composition of bee pollen.
Bee pollen showed both nutritional and anti-microbial benefits in men with prostate inflammation (Bárbara et al., 2015).
Cases where antibiotics are ineffective, benefit from bee pollen through better pain management (Komosinska-Vassev et al., 2015).
Other options include acupuncture and biofeedback. When applied by a specialist, these can allow men to control pain response and muscle relaxation.
Inadequate fluid intake and fatty foods promote prostatitis. Thus, a healthy diet and adequate fluid can help clear the bladder. Improved urinal clearance reduces the risk of prostate inflammation through reduced infection.
Conclusion
Although prostatitis is not a life-threatening condition, it does have a debilitating effect on the quality of life. The bacteria associated with some prostatitis diagnosis is unidentified.
Studies on the general use of antibiotic resistance raise questions about the improper administration of antibiotics, needing alternative approaches for treating chronic prostatitis.
There are a number of natural anti-microbial anti-inflammatory and antioxidants agents that can help to treat and reduce the symptoms of prostatitis.
Explore More