Most men develop some form of sexual dysfunction at one point or another.
These usually include erectile dysfunction and ejaculatory disorders such as premature ejaculation.
Since various factors influence a man's sexual health and function, they also contribute to managing the problems you may encounter. Diet is one of them.
In this post, you're going to learn more about the role of diet for premature ejaculation and what foods you can eat to last longer.
What is premature ejaculation?
Premature ejaculation (PE) is a sexual dysfunction wherein a man ejaculates without control or shortly after penetration, sooner than he wishes, which causes significant distress or interpersonal difficulties.
In most cases, men with this sexual disorder ejaculate within two minutes after penetration, and some do so before they penetrate.
Evidence shows premature ejaculation is one of the most common sexual dysfunction in men, with a worldwide prevalence of 30% to 40%. These figures could be even higher because many men don't discuss their sexual difficulties with doctors.
Premature ejaculation can be primary (lifelong) and secondary (acquired). The main symptom of this sexual problem is the inability to delay ejaculation for more than one or two minutes after penetration. This has a major impact on the quality of sexual intercourse, a man's confidence, and the relationship.
Causes behind premature ejaculation are usually a combination of psychological and biological factors. Men are more likely to have PE if they also have erectile dysfunction, stress and anxiety, abnormal hormone levels, and relationship problems.
Can diet affect premature ejaculation?
Diet affects different aspects of our health, including sexual function and ejaculatory control. Some vitamin deficiencies can increase the risk of this problem.
For example, lower vitamin D levels are strongly associated with acquired premature ejaculation. The exact mechanism through which low vitamin D contributes to premature ejaculation is unknown. Still, it could be down to its link to anxiety, which activates the sympathetic nervous system and lowers the threshold for ejaculation.
Lower zinc and magnesium levels in the diet are also associated with a higher risk of premature ejaculation. They can also worsen this condition if you don't address these deficiencies adequately.
A growing body of evidence confirms increased zinc consumption can prolong ejaculatory latency and increase the number of penile thrusting. This isn't such a surprise if we consider that zinc helps produce testosterone, boosts energy and libido, and increases semen volume and sperm motility.
Basically, an unhealthy diet contributes to vitamin and mineral deficiencies, thus contributing to your premature ejaculation. On the other hand, a vitamin-rich diet can help you improve sexual function, and manage or prevent premature ejaculation.
Get Your FREE Low Testosterone Diet Plan
The ultimate testosterone boosting diet
combined with exercise & lifestyle advice
Developed exclusively by our nutritionist
The best foods to help you last longer
Just by enriching your diet with some foods, you can improve sexual function and last longer. Below, you can learn more about diet for premature ejaculation i.e., the best foods to eat in order to prevent or manage this condition.
Walnuts
Walnuts are rich in antioxidants, Omega-3 fatty acids, and vitamins and minerals such as zinc and magnesium. All these nutrients can help men with premature ejaculation.
For example, low magnesium levels are linked to premature ejaculation and increased muscle contractions common in orgasms. For that reason, getting enough magnesium is essential for men who have PE or want to avoid it. Not only are walnuts nutritious, but they also happen to be a delicious snack.
Avocado
Like walnuts, avocado is nutritious. Not only is avocado abundant in vitamin C and vitamin E, which also functions as antioxidants, but it's also rich in vitamin K. This vitamin is important because it regulates blood flow.
Additionally, avocado happens to be a good source of protein and fiber, all of which are useful for ejaculatory control and optimal sexual performance. Consumption of avocado can increase your libido too.
Watermelons
Besides being the perfect summer food, watermelons are beneficial for male sexual function. One study and related articles found watermelons could be like a natural Viagra because it contains amino acid l-citrulline.
The body comprises citrulline into l-arginine, which increases nitric oxide levels. For that reason, watermelons can improve erectile function and are beneficial for men with ED. This mechanism of action is precisely why watermelons can also help men with premature ejaculation.
Garlic
While not the "sexiest" food, garlic can do wonders for male sexual health. The main active compound in garlic, called allicin, can improve blood circulation, exhibit aphrodisiac properties, and aid the management of PE and erectile dysfunction.
The best thing about garlic is that it's easy to incorporate into your diet. Plus, it has many other health benefits, including an immune system boost.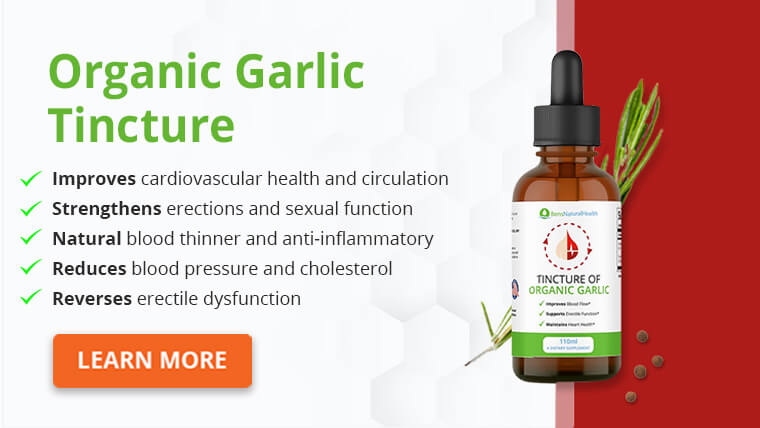 Bananas
Bananas are well-known for their high potassium content, which can aid the management of high blood pressure. Potassium regulates blood pressure and is good for persons with hypertension. But, its positive impact on blood flow also means bananas are beneficial for sexual function.
Bananas, like pineapples, produce enzymes and antioxidant bromelain, which may increase sexual desire and help manage premature ejaculation problems. Additionally, the consumption of bananas can increase your sexual stamina and endurance.
Carrots
When foods for premature ejaculation come to mind, you probably don't think of carrots at all. But, it's useful to include them in your diet.
Carrots contain folic acid, vitamin A and beta-carotene, a powerful antioxidant. Some studies show that low beta-carotene levels are associated with reduced testosterone.
The hormone testosterone is vital for male sexual function. Low testosterone levels can cause many problems ranging from decreased libido to erectile dysfunction, and PE. So, eating carrots as healthy snacks is a great way to support your ejaculatory function and last longer between the sheets.
Oysters
Oysters are famous for their aphrodisiac effects, which is why they have been used as a sexual medicine for centuries. But, they do so much more than increase sex drive.
Thanks to their high zinc content and vitamin B, oysters are beneficial for men who want to increase sexual activity, improve erectile function and cure premature ejaculation.
Other foods to eat
Besides the abovementioned, other foods to eat to last longer and to have a stronger erection, include:
Spinach
Asparagus
Dark chocolate
Lentils
Eggs
Celery
Fish and seafood
Mushrooms
Other home remedies for premature ejaculation
Management of early ejaculation requires a healthy lifestyle. In addition to modifying your diet, there are other things you can do to naturally manage your premature ejaculation and improve sexual performance.
These include:
Try dietary supplements – many products help men improve sexual function and manage premature ejaculation. A good example is a zinc supplement.
Topical creams – formulated specifically to help men last longer.
Pause-squeeze technique – helps treat premature ejaculation naturally by allowing arousal to dwindle before climax.
The stop-start technique – also known as edging or orgasm control, helps delay climax by drawing out the pleasure.
Pelvic floor exercises – also known as Kegels, they aim to strengthen pelvic floor muscles and penile muscles, which have a major impact on how long it takes to ejaculate. These exercises are particularly effective for lifelong premature ejaculation.
When to see a doctor about premature ejaculation
Men are usually embarrassed to discuss their sexual function with anyone, doctors included. However, you should see your doctor or a urologist if you tend to ejaculate sooner than you wish during most sexual encounters.
In other words, if your problem persists, you should consider scheduling an appointment to see your doctor. This is particularly important if PE affects your confidence or relationship.
Bear in mind that premature ejaculation is a common and treatable form of sexual dysfunction. These appointments are beneficial for mental health, especially because the doctor explains occasional PE is normal and most men solve this problem successfully.
Conclusion
Premature ejaculation is a common, but manageable male sexual dysfunction. Diet has a major impact on your sexual function, and it may either help manage premature ejaculation or worsen it.
For that reason, you need to make healthy food choices by enriching your diet with foods to delay sperm discharge from this post. You may also want to see a doctor who will recommend the most suitable premature ejaculation treatment option.
Explore More